Thinkerbell Labs aims to help visually impaired to learn and use Braille language through an audio-tactile device that makes self-learning and classroom teaching of Braille possible. It runs on a Raspberry Pi – a tiny and affordable computer - and consists of hardware components such as a refreshable Braille display, a digital Braille slate, and a Perkins style Braille keyboard - all in one device. This combination helps students learn how to read, write, and type, with all modules complementing one another.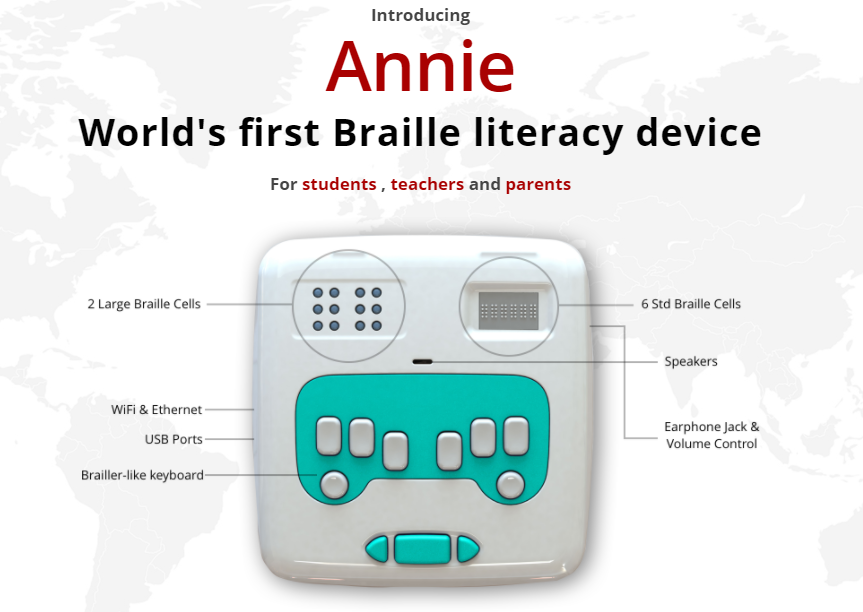 The co-founder Sanskriti Dawle answered to our questions:
How and when did you come up with your business idea?
In January 2016 the product Annie was conceptualized in its current form after the team spent a day learning Braille at a rehab center in Hyderabad, India. Annie was designed keeping in mind all the teaching aids and processes used by the special educator while teaching Braille.
What goals have you achieved?
Our team is very proud of the latest goals we have achieved. We have obtained the first revenue: State government of Jharkhand, India has decided to deploy a pilot of 20 Annie devices. Furthermore, Annie was launched at the VIEW conference in Birmingham, UK on 15th March 2018 to a spectacular response.
These are the prizes we won:
Winner at Great Tech Rocketships, 2016 - Department of International Trade, UK Government
Winner at 500K BIZ Launchpad - Deshpande Foundation (given out by Mr. Narayan Murthy)
Best Social Innovation - InTech50 (given out by Mr. Amitabh Kant)
Winner of Nasscom Social Innovation Forum 2017
Elevate 100 selected startup - Govt. of Karnataka
Winner - BITS-75 Charitable Trust and Center for Emerging Technologies
Fellowship at India Inclusion Summit 2016
Incubated at MassChallenge UK 2016 (London)
Winner at London Acumen Pitch Event
What does GSVC mean to you?
GSVC would mean a direct feedback from an eminent jury which would go a long way in improving our business idea. It would also mean access to a large network of alumni who we can reach out to and collaborate with in the future. Being a resource-strapped startup, it would also allow us to explore new geographies for our business.
---